Unveil the Secrets of Casino Blackjack Success
Blackjack is one of the most popular casino games worldwide, offering players a perfect blend of skill, strategy, and luck. In this comprehensive guide, we'll walk you through the essentials of how to play casino blackjack. You'll learn the basic rules, strategies to increase your odds of winning, and tips for making the most of your casino experience. Whether you're new to the game or a seasoned pro, this article is designed to inform, educate, and entertain you.
Know the Basics: Understanding Blackjack Rules
The Objective: Reach 21 or Beat the Dealer
The primary goal in blackjack is to have a hand value that's closer to 21 than the dealer's hand, without going over. Face cards are worth 10 points, numbered cards are worth their face value, and aces can be worth either 1 or 11 points, depending on what benefits your hand most.
Here is a guide to the basic rules of Blackjack:
1. The goal is to get a hand total that is closer to 21 than the dealer's hand without going over 21.
2. Cards 2 – 10 are worth their face value. Face cards (Jack, Queen, King) are worth 10. Aces can be worth 1 or 11, whichever is most beneficial for the player.
3. Players are dealt two cards face up initially. The dealer is also dealt two cards, one face up and one face down.
4. Players then decide if they want to "hit" (receive another card) or "stand" (keep their current hand total). Players can hit as many times as they want until they either bust by going over 21 or decide to stand.
5. Once all players have stood, the dealer reveals their hole card and hits or stands according to dealer rules (usually 16 or higher the dealer must stand, under 16 the dealer must hit).
6. If the player's hand total is higher than the dealer's without exceeding 21, the player wins. If the player busts, the dealer wins. If both the player and dealer have the same total, it's a push (tie) and no one wins.
7. Players can double down any time before they receive their third card, which means placing an additional bet in exchange for receiving only one more card.
8. Players can split any pair (two cards of the same rank) into two separate hands and place an additional bet. Each split hand is then played independently.
9. Insurance may be offered by the dealer when an Ace is showing. Insurance hedges against the possibility that the dealer's hole card is a 10, giving them a Blackjack. Insurance pays at 2:1 odds.
That covers the main rules of Blackjack to get you started. The key is to try and get as close to 21 as possible without going over. Let me know if you have any other questions!
Also read: Strategies for Effective Online Casino Guest Posting
The Gameplay: Betting, Hitting, Standing, and More
Each round of blackjack starts with players placing their bets. The dealer then deals two cards to each player and themselves, with one of the dealer's cards being face-up. Players then decide whether to 'hit' (request another card) or 'stand' (keep their current hand). If a player's hand value exceeds 21, they lose the round, or 'bust.'
Here is a guide to Blackjack gameplay:
1. When you sit down at a Blackjack table, place your bet in the betting circle in front of you. The minimum and maximum bets will be posted at the table.
2. The dealer will shuffle the cards and ask "Shuffle up and deal?" This means they are ready to start the game. All players answer "Yes" or remain silent to indicate they are ready.
3. The dealer will deal two cards face up to each player and then two cards for themselves – one face up and one face down (the hole card).
4. The dealer will announce the point total of their face up card. This will give you an idea of what you need to beat.
5. You will then decide to "hit" (take a card) or "stand" (keep your current total). You say "Hit" or gesture with your hand to indicate you want a hit.
6. The dealer will deal you another card face up. You add that card's value to your hand total. You can then hit again if you want, up to a maximum of 4 or 5 cards depending on the casino's rules.
7. If you go over 21 (bust), you lose and the dealer will take your bet. Say "Bust" and push your cards under your bet.
8. If you stand on your total, the dealer will move to the next player and repeat the process.
9. Once all players have stood, the dealer reveals their hole card and follows the casino's rules for hitting or standing.
10. Wins and losses are settled, then the dealer will shuffle the cards again and say "Shuffle up and deal?" to start the next hand.
Also read : 5 Most Popular Blackjack Variants in Online Casinos
Optimize Your Odds: Implementing Winning Strategies
Basic Strategy: The Foundation of Blackjack Success
A crucial aspect of blackjack strategy is knowing when to hit, stand, double down, or split. These decisions are based on the dealer's face-up card and your own hand value. Familiarize yourself with basic strategy charts to improve your decision-making and increase your chances of winning.
•Always split Aces and 8s. This gives you the best chance of getting closer to 21.
•Hit on soft 17 (Ace and 6). This turns your hand into a hard 17, giving you a better chance to beat the dealer.
•Stand on hard 17 or higher. Once you reach 17 or more without an Ace, it's best to stand and not risk busting.
•Double down on 9, 10, and 11. These hands have a high likelihood of improving to a winning total.
•Never double down on Soft Hands (with an Ace). This increases your chances of busting.
•Learn the basic strategy card. There are optimal plays for any two-card combination against any dealer upcard. Memorizing these will maximize your odds.
•Keep track of the cards dealt. Note any 10s, Aces or large totals to predict what remains in the deck.
•Count cards if possible. When more high cards remain, you have better odds. Bet more in this situation.
•Play with as many decks as possible. This makes card counting less effective so the house edge is lower.
•Avoid insurance bets. The odds are heavily in the dealer's favor so insurance usually loses in the long run.
•Don't pair split more than twice. While splitting allows you to draw more cards, it also doubles your bet amount.
•Only play at tables with good rules. Avoid any table rules that increase the house edge like no double after split, surrender, or double on any two cards.
Following basic strategy and these tips will ensure you get the most out of every hand and give you the best shot at winning in the long run.
Card Counting: A Controversial But Effective Technique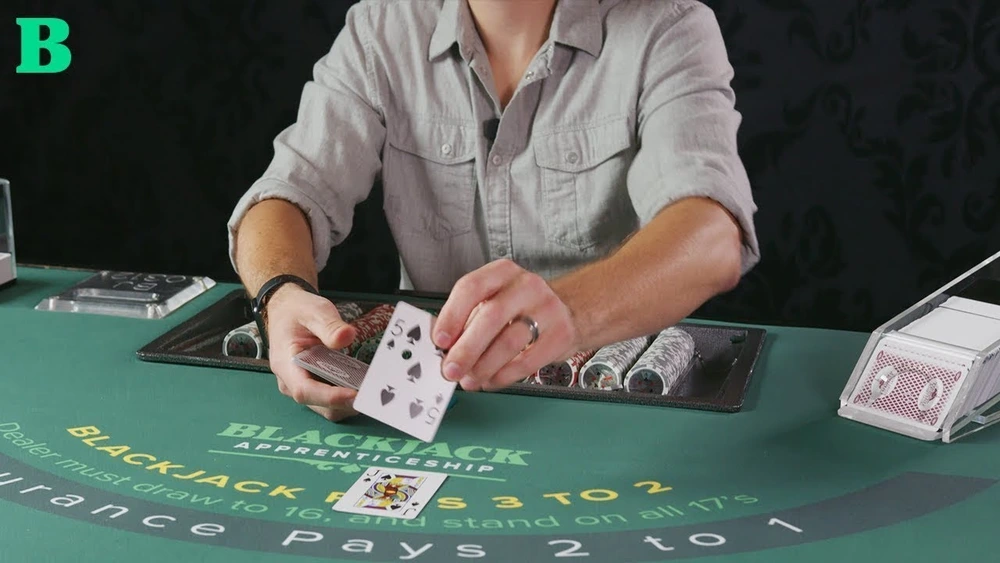 Card counting involves tracking the ratio of high to low cards remaining in the deck. While this method is frowned upon by casinos and can get you banned, it's an effective way to gain an edge over the house. Many successful blackjack players have used card counting to increase their winnings.
How it works:
Cards are assigned values, with low cards like 2-6 getting -1 and high cards 10s, Jacks, Queens and Kings getting +1. Aces can be either +1 or -1 depending on if it helps the player or dealer.
As cards are dealt, the card counter adds or subtracts the assigned values to keep a running count. When the count gets higher, more 10s and Aces remain and the deck is advantageous for the player.
When the count is high, the player can:
• Increase their bets to capitalize on the favorable count
• Double down and split more often since more winning cards remain
• Avoid insurance bets since fewer 10s remain for dealer Blackjacks
Issues:
• Casinos do not like card counting since it gives players an actual advantage. Many will ban or ask card counters to leave.
• It requires keeping track of cards in multiple decks, making it difficult to count accurately.
• It only provides a small advantage (around 1-2%), so a large bankroll and good discipline are needed.
But despite the issues, card counting when done properly can provide an actual edge for the player in an otherwise house-favored game. With enough practice, players can gain enough proficiency to benefit from counting the remaining cards.
So in summary, while controversial and difficult to implement effectively, card counting remains one of the only techniques that can actually give players an advantage over the house in the long run if done correctly.
Casino Etiquette: Making the Most of Your Experience
Tip the Dealer: Show Appreciation for Their Service
Tipping the dealer is a customary practice in casinos. A small tip showcases your gratitude for their service and helps create a positive atmosphere at the table.
Know When to Walk Away: Manage Your Bankroll Wisely
Set a budget for your blackjack session and stick to it. Knowing when to walk away, whether you're winning or losing, is a vital skill in responsible gambling.
Playing online Blackjack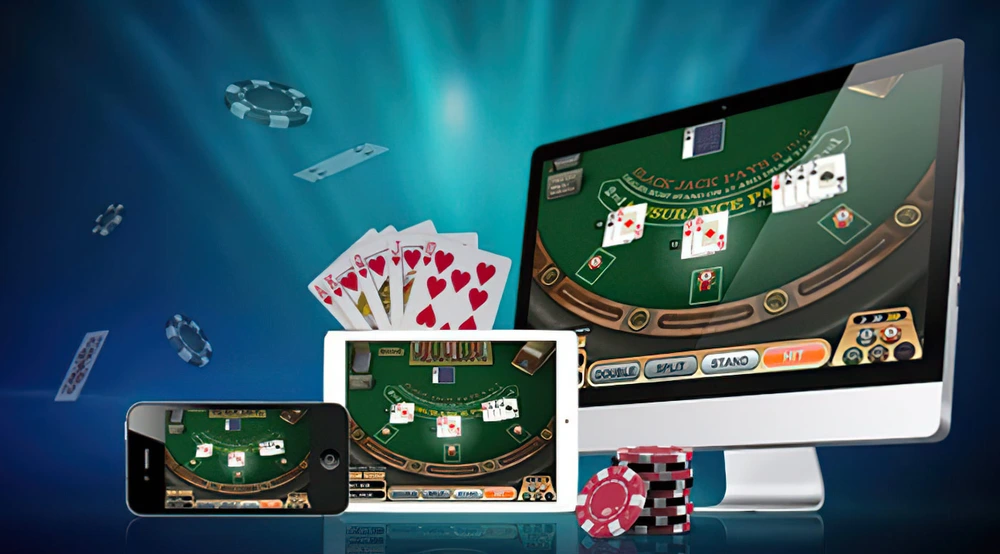 1. Choose a reputable online casino site. Look for one that is licensed, has good security, good reviews and a large selection of Blackjack games.
2. Create an account and deposit funds. Most sites accept credit cards, debit cards, eWallets like PayPal and cryptocurrencies. Choose a deposit method that works for you.
3. Select your Blackjack game. Most sites offer Classic Blackjack, Double Exposure, Progressive Blackjack and even live dealer Blackjack. Choose the one that suits you.
4. Pick your bet size. Look at the betting limits for the table you choose. Minimum bets are usually $1 to $5 while maximum bets can go up to $2,000 or more. Bet an amount you are comfortable with.
5. Play the game! The rules are the same as land-based Blackjack – get as close to 21 as possible without going bust.
6. Make optimal decisions using basic Blackjack strategy. This includes when to hit, stand, double down, split, etc. based on your cards and dealer's upcard.
7. Receive and cash out your winnings. Any winnings you accumulate will be added to your account balance. You can cash out your funds using your deposit method.
8. Look for promotions and bonuses. Many online casinos offer welcome bonuses, reload bonuses and VIP perks to reward players. Take advantage of these if they fit your budget.
9. Practice safe gameplay. Set a budget and time limit before playing. Avoid chasing losses and only risk money you can afford to lose.
That covers the basics! Online Blackjack is largely the same as land-based Blackjack, but with the added convenience of being able to play from anywhere, anytime on your device of choice.
How to choose the best online blackjack site
• Security and licensing – Make sure the sites are legally licensed and regulated by a gaming commission like the UKGC or Curacao eGaming to ensure proper security of your funds and personal information.
• Mobile experience – Check if the sites have dedicated mobile apps or mobile-optimized websites so you can play Blackjack on the go from your smartphone or tablet.
• Variety of game speeds – Some sites offer options to switch between different game speeds like regular, single deck and multi-hand blackjack to suit your preferences.
• Customer support – Good customer support is important to help with any issues you have. Check reviews to see how responsive and helpful the support teams are.
• Additional promotions – Beyond sign up bonuses, some sites run ongoing promotions like cashback offers, reload bonuses and VIP programs to reward loyal players.
• Deposit and withdrawal options – The best sites offer a wide range of banking options like credit/debit cards, e-wallets and cryptocurrencies with fast payout times.
• Reputation and history – Long established sites that have been operating for many years tend to be more reliable and trustworthy. Check forums for player experiences.
Hope these additional considerations help! In summary, while game selection, bonuses and payback percentages are important, factors like security, customer support, banking options and reputation also play a big role in identifying the best online blackjack casinos.
The best Blackjack sites in the US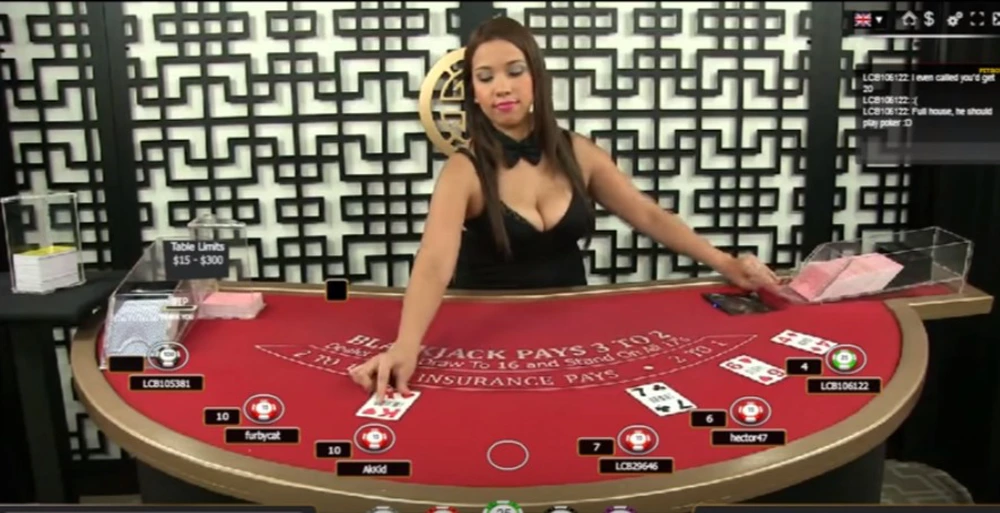 1. Bovada – Overall best site due to huge game selection and bonuses.
2. Ignition – Top value with highest blackjack payouts around 99.5%.
3. BetOnline – Best for beginners with great learning resources.
4. Sloto'Cash – Highest welcome bonus of up to $7,500.
5. Big Spin Casino – Excellent loyalty program with comp points.
Also read : Top 10 Biggest Casinos In The World
Things to Consider When Choosing a Blackjack Site:
1. Bonuses – Look for a site with a generous welcome bonus as well as ongoing reload bonuses. Use bonus codes if available.
2. Game Variety – Choose a site that offers a wide selection of blackjack games like Single Deck, European, Atlantic City and more.
3. Payout Percentage – The higher the better. Top sites have payouts over 99%. Check third party audits.
4. Reputation – Choose a site that has been around for years with a good reputation among players. Avoid unknown brands.
5. Banking Options – A good site has many convenient deposit and withdrawal options like credit cards, eChecks, crypto and eWallets.
6. Mobile Experience – Check if the site has a dedicated mobile app or mobile-optimized website to play on the go.
7. Customer Support – Good 24/7 live chat, email and phone support is a must in case you have any issues.
8. Licensing and Security – Look for sites that are licensed by trusted regulatory bodies like the Kahnawake Gaming Commission for security and fairness.
Following this guide should help you find a quality legal online casino site to play blackjack that fits your specific needs and preferences.
How to Play Online Blackjack for Real Money
Playing online blackjack for real money is simple and convenient. Here are the steps:
1. Choose a reputable casino – Only play at legal and licensed online casinos with a good reputation for security and fair gaming.
2. Create an account – Provide some basic information to set up a casino account. You'll get a username and password to login.
3. Deposit funds into your account – Use credit cards, debit cards, e-wallets or crypto to deposit money into your casino account balance.
4. Select your blackjack game – Choose between Classic, Single Deck, Progressive, multiplayer and live dealer blackjack variations.
5. Choose your bet size – Table limits will be shown. Select a bet that fits your budget starting from as low as $1 per hand.
6. Place your bet – Click the chip value you want to bet before each hand. Place enough chips to cover your selected bet.
7. Play the hand – The rules and basic strategy are the same as land-based blackjack. Play to get as close to 21 as possible without going over.
8. Get paid out for wins – Your winnings will be automatically added to your casino account balance. You can then withdraw your balance.
9. Use promotions – Take advantage of welcome bonuses, reload bonuses and VIP programs offered by many reputable online casinos.
10. Withdraw your money – Once you cash out your winnings, the casino will process your requested withdrawal using the same payment method you used to deposit funds.
Following these steps will allow you to easily and safely play online blackjack for real money. Just be sure to gamble responsibly and within your means.
Blackjack Chart
Blackjack Basic Strategy Chart and Guide for Beginners
The blackjack basic strategy chart outlines the statistically best move for any hand in blackjack against any possible dealer upcard, maximizing your odds of winning in the long term. Here is a guide to using the blackjack basic strategy chart effectively:
1. Download a chart. You can find free blackjack basic strategy charts online. Have this open while you play to refer to the recommended move for your particular hand.
2. Learn the basic plays. Memorize some of the most common recommended moves, like always hit 16 and under and stand on hard 17 or higher. Then reference the chart less.
3. Consider your two opening cards. Lookup your specific two-card hand combo in the left column on the chart (like 8,7 or A,2 etc).
4. Check the dealer's upcard. Find that dealer upcard across the top row (2 through ACE).
5. Make your move. The cell where your hand meets the dealer's upcard will show either H (hit), S (stand), P (pair split), D (double down) or S/D (split or double down depending on second card).
6. Practice makes perfect. The more you use the chart, the more it will become second nature and you won't need to refer to it as much. But always have it open as a reference when first starting out.
7. Stick to the strategy. Deviating from the chart can reduce your odds of winning. So try your best to follow the recommended play to maximize your advantage.
8. Adjust based on the situation. Some basic strategy recommendations change slightly for certain casino rules, so double check your chart applies to your current game.
Following basic strategy using a chart is the best way to optimize your wins and minimize losses in the long run. Good luck at the blackjack tables!
How to Deal Blackjack At Home or In a Casino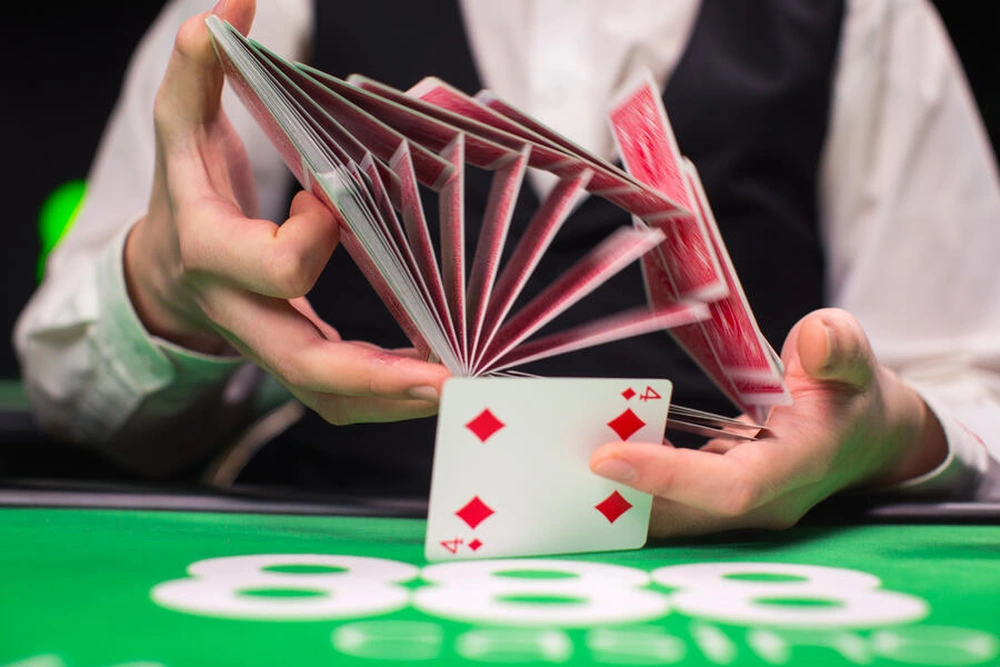 Setting Up:
•Gather a standard 52 card deck – remove the jokers. Jokers are never used in blackjack.
•Shuffle the deck thoroughly to ensure the cards are in a random order.
•Offer the deck to players to cut or shuffle further to ensure the dealers hand is not compromised.
•Place the designated betting area in front of each player. Chips or cash are placed here.
Dealing the Cards:
•Deal one card face up to each player and yourself from left to right.
•Deal a second card face up to each player including yourself.
•Do not reveal the value of your second (hole) card until all other players have acted.
Hitting and Standing:
•Ask each player if they would like to "Hit" (take another card) or "Stand" (keep their current hand total).
•Deal face up any additional cards to players who ask to Hit.
•Warn players when they approach or exceed 21 (bust).
Resolving Hands:
•Once all players Stand, reveal your hole card and total.
•If your total is under 17, you must Hit until you reach 17 or higher
(basic strategy most casinos require dealers to follow).
•Pay out winning hands by pushing their bet amount toward them.
Collect losing bets by pulling them into the dealer tray.
•Splitting pairs, doubling down and other options also follow set rules
and strategy to optimize the player's odds.
Repeat:
•Shuffle the cards well between each hand and offer players the chance to cut the deck.
•Begin the next round by saying "Place your bets" and then "No more bets."
•Collect all cards, shuffle and repeat the process. Dealercards are last.
With practice, smooth and consistent dealing is key to running an enjoyable blackjack game for players.
Also read : Best Casino Apps for Real Money
A Guide to Double Down in Blackjack – Rules, Strategy and Tips
What is doubling down?
Doubling down means the player places an additional bet, up to the size of their original bet, in exchange for receiving only one additional card dealt face up.
Basic rule:
In most casinos, a player can double down on any two first cards. However, some casinos only allow doubling on 9, 10 or 11. Players cannot double down after splitting or on a soft hand with an Ace.
Optimal strategy:
• Double down on 9, 10 and 11 versus most dealer up cards. These hands have over a 50% chance of improving to a winning total.
• Avoid doubling on 12 through 16. These totals are already close enough to beating the dealer without risking busting.
• Never double on soft hands containing an Ace. An Ace has a high chance of busting your hand when doubled.
Example:
• Player is dealt a 10 and 6 for a total of 16. Dealer is showing a 7.
• Player says "Double Down" and places a bet equal to their original bet.
• Dealer deals the player one additional card face up.
• If the additional card is a 10 (for a 4-6-10 soft 26) or lower, player likely wins. But any face card (10) or Ace busts the player.
Tips:
• Only double with hands that have a high probability of improving without busting.
• Double down sparingly, especially early in the shoe when more high cards remain.
• Check the specific double down rules for that casino before placing bets.
• Consider the dealer's upcard – double more aggressively against lower cards under 6.
Also read : which celebrity is banned from playing blackjack at the hard rock hotel & casino?
Blackjack Card Values – Number and Face Cards in Basic Strategy
In blackjack, cards have different point values that are used to determine the win or loss of each hand.
Number Cards
• Cards 2 through 10 are worth their face value. So a 6 of diamonds is worth 6 points.
Face Cards
• Face cards including Jack, Queen and King are worth 10 points each.
Aces
• Aces can either be worth 1 or 11 points, whichever value is more beneficial for the player.
• An Ace and any other card totaling 11, 12, 13, etc. is a soft hand since the Ace can be revalued to prevent busting.
Basic Strategy Tips:
• Cards 7, 8 and 9 are the most valuable since they are closest to 21 without busting.
• 10s, face cards and Aces carry more risk since they can easily push a hand total over 21.
• Smaller total hands (12 – 16) have a lower chance of busting, so players should stand more often.
• Larger total hands (17 – 21) have a higher chance of busting if the player hits, so standing is recommended.
• Soft hands containing an Ace should generally be played more aggressively since the Ace provides flexibility.
• Splitting pairs and doubling down depend highly on the value of the first two cards.
For optimal basic strategy, players need to consider the specific point values and risks associated with each card. Following the point values and basic strategy recommendations for each hand total will maximize a player's chances of winning against the dealer in blackjack.
Conclusion: Becoming a Blackjack Pro
Mastering casino blackjack takes time, patience, and practice. By understanding the rules, implementing winning strategies, and following casino etiquette, you'll be well on your way to enjoying a successful and entertaining gaming experience. Remember to gamble responsibly and have fun!